If Your Horse Won't Slow Down or Stop… Won't Take The Correct Lead… Won't Side-Pass or Easily Turn… You Need to See This!
A step-by-step system to a well trained horse. Ride with confidence, knowing you can easily slow down, stop, turn, side-pass or get the correct lead at any time, in any situation.
Imagine taking your horse out for an enjoyable ride.
You're sitting relaxed and comfortable in the saddle.
The reins are hanging loose. After a short warm up at the walk and trot, you cluck to your horse and ask him to lope.
He calmly and quietly steps into a nice, slow lope on the correct lead. The kind of lope you see on a smooth, well-trained RANCH HORSE or REINING HORSE.
This kind of horse lopes slow, free and relaxed. His head and neck are carried low and natural and he does so on a loose rein.
He stops, turns and backs up with only a light touch of the reins. He responds to the rider's leg cues… side-passes, picks up the correct leads and changes direction calmly without a fuss.
You are able to ride this horse relaxed, without worry.
You're relaxed because you're CONFIDENT you can CONTROL the horse, slow him down, stop or turn him at any time… in any situation… without a fight or struggle.
If you want your horse to be exceptionally good, this is the training he must have!
Hi – I'm Larry Trocha. The trainer who created this series of videos.
Even if you believe you've seen and tried everything to get your horse well trained… and FAILED… don't be discouraged!
It's not your fault. You just haven't been taught the appropriate training methods to get the job done.
I assure you, the training methods you'll learn in this series of videos, will work for you and your horse. I guarantee you'll get good results.
The title of this online training course is:
Lope Slow With Complete Control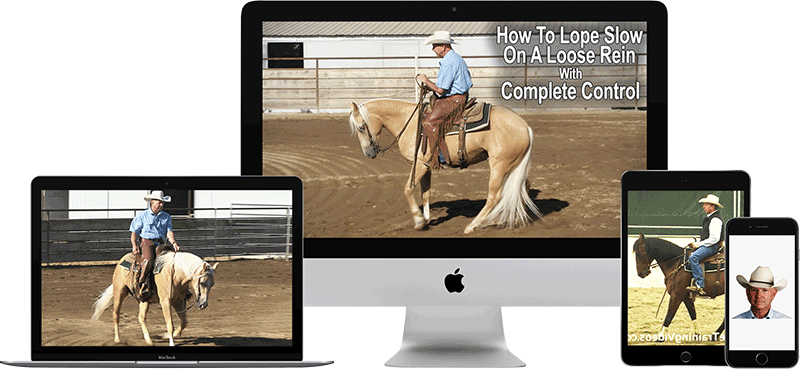 Even though the primary focus of this video series is loping slow with complete control… the training techniques you'll see here, will improve just about everything your horse does (or doesn't do).
It will drastically improve his stops!
It'll improve his turns, lead departures & flying lead changes.
It'll fix bad head position and greatly improve his willingness to please you.
Here's a small sample of what you'll learn:
How to teach your horse to stop with NO VISIBLE CUES.
How to teach your horse to WANT to go slow whenever you ask.
How to teach your horse to stop lightly the instant you ask.
How to teach your horse to pick up the correct lead.
The foundation for getting your horse more supple, soft and giving.
How to greatly reduce your horse's "resistance" response.
The #1 control factor of a horse's body (no, it's not his mouth).
How to teach your horse to give to pressure and come to your hands.
How to fix a horse that refuses to calmly walk, trot & lope on a loose rein.
What "good" hands are and what they are "not". (extremely important)
How to get your horse a lot lighter and more responsive.
A fool-proof way of improving your horse's turns.
How to teach your horse to give to your hands and flex at the poll.
How to teach your horse to respond to leg pressure and move his hindquarters.
How to teach your horse both lateral and vertical flexion.
How to control your horse's shoulders. (vital for good turns & suppleness).
What to do if the training doesn't go right.