New! Step-By-Step Horse Training System Reveals How To Get Your Horse Well Trained With Complete Control… In The Easiest And Quickest Way Possible!
If Your Horse Won't Slow Down or Stop… Won't Take The Correct Lead… Won't Side-Pass or Easily Turn… You Need to See This!
Do you have dependable control of your horse?
Will he travel at the exact speed you want?
Will your horse slow down, stop and turn willingly and lightly?
Will he take the correct lead, side pass, back up and respond like a well-trained horse?
If not, you've come to the right place.
If you want your horse to be exceptionally good, this is the training he must have!
Hi – I'm Larry Trocha. The trainer who created this online video training course.
Even if you've tried everything under the sun to get your horse well trained… but failed… don't be discouraged!
It's not your fault. You just haven't been taught the right training methods to get the job done.
I assure you, the training methods you'll learn in this series of videos, will work for you and your horse. I guarantee you'll get good results.
The title of this online training course is:
Lope Slow With Complete Control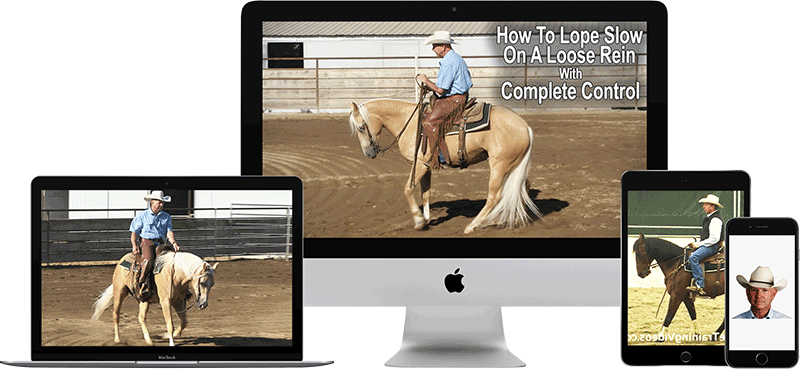 Even though the primary focus of this video series is LOPING SLOW with COMPLETE CONTROL… the training techniques you'll see here, will improve just about everything your horse does (or doesn't do).
It will drastically improve his stops!
It'll improve his turns, lead departures & flying lead changes.
It'll fix bad head position and greatly improve his willingness to please you.
Here's a small sample of what you'll learn:
How to teach your horse to stop with NO VISIBLE CUES.
How to teach your horse to WANT to go slow whenever you ask.
How to teach your horse to stop lightly the instant you ask.
How to teach your horse to pick up the correct lead.
The foundation for getting your horse more supple, soft and giving.
How to greatly reduce your horse's "resistance" response.
The #1 control factor of a horse's body (no, it's not his mouth).
How to teach your horse to give to pressure and come to your hands.
How to fix a horse that refuses to calmly walk, trot & lope on a loose rein.
What "good" hands are and what they are "not". (extremely important)
How to get your horse a lot lighter and more responsive.
A fool-proof way of improving your horse's turns.
How to teach your horse to give to your hands and flex at the poll.
How to teach your horse to respond to leg pressure and move his hindquarters.
How to teach your horse both lateral and vertical flexion.
How to control your horse's shoulders. (vital for good turns & suppleness).
What to do if the training doesn't go right.
Few horse owners truly understand good horse training practices. The things that help their horse's training and what hurts their horse's training.
Especially, the way a rider uses his hands, legs and body. Mastering these principles are the KEY to a well-trained horse.
In this training course, you'll learn exactly what you need to succeed.
Lope Slow With Complete Control
It doesn't matter if your horse is simply "green" or an old, confirmed run-a-way with a hard mouth and a ton of bad habits.
Doesn't matter what your level of horsemanship… novice or advanced… you'll have success (or at least vast improvement) with the training techniques you learn in this course!
Horses either ADVANCE or DEGENERATE to the level of their rider. That's why it's so important for you to learn these training techniques.
Read the above two sentences again. Critical for you to understand.
You'll see multiple training techniques that work great on all kinds of different horses.
In this online course, you'll see four (4) different horses being trained.
One is an average, normal horse… one is a hot, overly reactive horse… another is a blown-up barrel horse and the fourth horse acts like she has a screw loose (she put her owner in the hospital multiple times).
Why this training course is different… and why you should get it.
The reason why is because, in this training course, you are shown the "REALITY" of transforming your horse into a well-trained horse that you can be proud of.
You will see real-life horse training sessions and real proven solutions that will work on the vast majority of horses. Plus, the training sessions are explained in "plain english" anyone can understand.
Get started by becoming a member today!
All the training techniques you need are contained in this training course. It's true and you can look at a sample of the menu here.
Start by clicking the "Join Now" button below. Then, fill out the secure "Check Out" page.
A few minutes after you submit your order, you'll receive an email containing your username and password. Then login and start watching. Okay, do it now and I'll see you in the "Members Area".
Lope Slow with Complete Control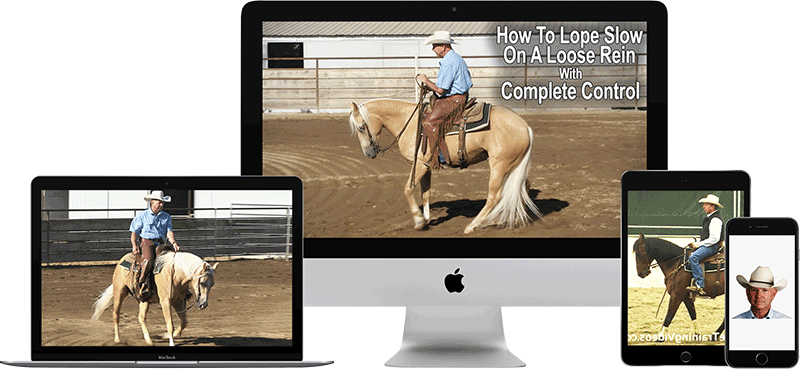 Watch the videos as many times as you'd like for an entire year (365-days). You can access them on any COMPUTER, TABLET or SMART PHONE with an internet connection.
Lope Slow with Complete Control – Online Videos
Watch as many times as you want.
1-year membership: $97



100% Satisfaction Guarantee!
I guarantee you'll find a solution to your horse's bad behavior problems in this online training course. If not, simply send me an email and I'll guide you to it.
If you're still not satisfied, let me know within 30 days and I'll cancel your membership and refund your money.
Frequently Asked Questions
Question #1
Is this training course available on DVD?
No, it isn't.
I prefer having the course online because it allows me to occasionally add more content to the course.
With DVDs I wouldn't be able to do that.
Even if it would, it'd take 6 or 7 DVDs to hold all the information in the course. Which means the retail price would need to be a lot higher.
Question #2
I don't know much about the internet. Is this online training course easy to access and use?
Yes.
When you purchase a membership to this course, you are emailed a username and password. Simply login (the link is at the top of every page) and click on the course membership you purchased. You will automatically be taken to the course.
The links to the content will be in a menu on the left side of the page (desktop). If you're using a tablet or smart phone, the menu may be at the bottom of the page.
Question #3
​​I have a slow internet connection. Will I be able to watch the videos?
Yes, if you access the videos via your smart phone.
The videos are optimized to watch on any devise (computer, tablet or smart phone). If your internet connection is super slow, the videos won't play well on a computer.
However, they will load and play fine on your smart phone.
Question #4
​​If I have problems accessing the course or watching the videos, is help available?
Yes, absolutely!
Go the the "Contact Us" page and you will find links to information that will help… or send us an email for help… or call us on the phone.
Question #5
At the end of my 1-year membership, will you automatically charge my credit card again?
No… We never charge anyone's credit card unless they specifically authorize it.
Plus, we never "store" anyone's credit card on our website servers. This insures your information is safe and not at risk.
Question #6
If I want to renew my membership, will I receive a discount?
Yes… a 50% discount if you want to renew.
Just let me know you want to renew via email and I'll send you the discount coupon code.
About horse trainer, Larry Trocha

Training horses professionally since 1980, Larry Trocha lives in California where he trains and shows horses for the public.

Larry also offers instruction to riders who want to learn reining, cutting or reined cow horse.

Larry is a long-standing member of the NCHA (membership #518) and the AQHA (membership #1187036).

You can contact Larry via his website: HorseTrainingVideos.com

Larry Trocha Training Stable
Phone: 209-642-2804