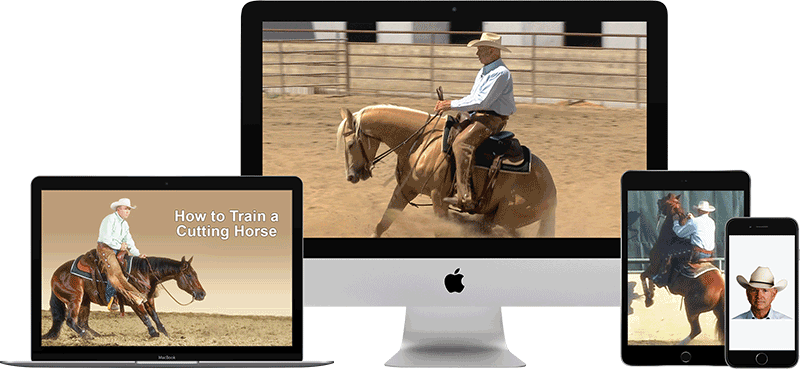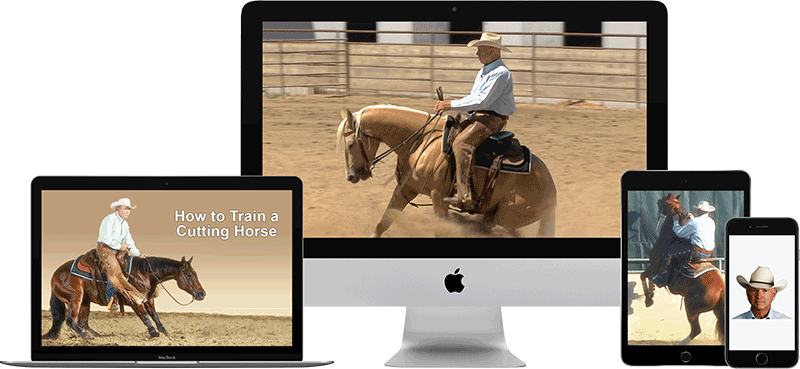 Streaming Horse Training Videos You

Watch Online

with any Computer, Tablet or Smart Phone.
If you want horse training videos that get right to the point without unnecessary fluff or B.S… you're in the right place.
Already a member? LOGIN
Complete Horse Training Membership – 50% Discount.
Access to all the online training courses in the "Members Area".
The "Complete Horse Training Membership", includes all the training courses you see on this page. Included are the new videos taken from my DVDs and reformatted to watch online. Watch as many times as you want for a full year… Plus you get a huge 50% discount. An awesome resource! More info…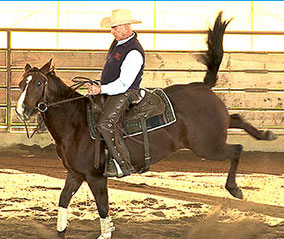 Groom, Saddle, Ride & Fix Bad Behavior
How to Fix Horses that Buck, Rear, Bite, Kick or Spook… and a Whole Lot More! How to saddle your horse, ride him & fix bad behavior problems. If your horse is disrespectful or has dangerous habits, this is the online video training course for you. Has your confidence been shaken? Learn how to get it back. More info…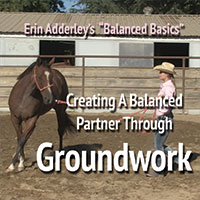 Balanced Basics Groundwork
Balanced Basics Groundwork by Erin Adderley!
The best groundwork video training course I've ever seen! Finally… a top horse trainer shares how to create a balanced partnership with your horse through groundwork. Effective groundwork that relates to the horse in the round pen as well as on the lunge line and under saddle. More info…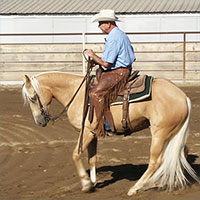 How to Lope Slow with Complete Control
If Your Horse Won't Slow Down or Stop… Won't Take The Correct Lead… Won't Side-Pass or Easily Turn… You Need to See This!
This outstanding video training course will teach you how to get control of your horse, slow him down, get him light and supple, improve his stops, turns, leads and more. Ride with confidence… knowing you can control or stop your horse in any situation. More info…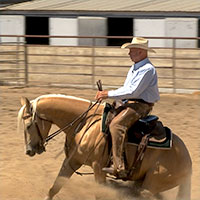 Horse Training Secrets For Big Stops
Finally… a reining & cutting horse trainer shares the truth about how to put a "BIG STOP" on your horse. The most detailed instruction on how to put a big stop on just about any horse. You'll learn training secrets you've never seen or heard of before. Both reining horse sliding stops, as well as cutting horse stops are taught in this online video training course. More info…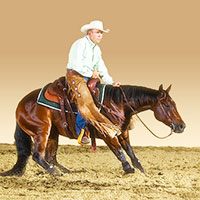 Cutting Horse Know How
How To Ride, Train and Show Cutting Horses!
The most complete and detailed cutting horse instruction available anywhere. You will learn just about everything you need to know… including HOW TO FIX HORSES THAT RUN OFF AND LEAVE THE COW. You'll get more out of this online video training course than any other cutting horse videos you've ever seen. I personally guarantee it. More info…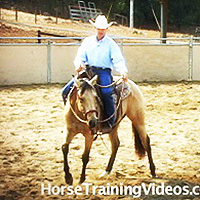 Colt Starting with a Hackamore (Bosal) & Snaffle Bit
The Way To Start Colts To Get The Best Results Possible!
Ground work, good manners and establishing a solid foundation of training. The safest and most "stress free" way I know to get colts started right. Watch the entire training process exactly as it happened in "real time". More info…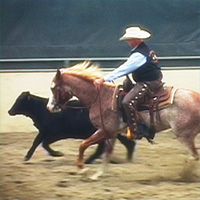 Introduction To Cow Work
A Horse's Initial Training On Live Cattle… Plus The Mechanical Cow! A detailed guide for starting your horse on cattle the "right" way. plus how to use the mechanical cow. If you plan on doing cutting, reined cow horse or ranch sorting, this video shows how to get your horse started right. More info…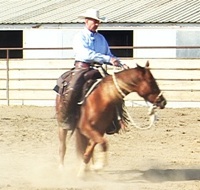 Hackamore (Bosal) Training With Snaffle Bit Training Bonus
Sliding Stops, Spins, Lead Departures & More Using A Braided Hackamore (Bosal)! How to train a well-reined performance horse with the braided hackamore (bosal) & O-ring snaffle. Teach your horse lightness, suppleness, sliding stops, rollbacks, spins, lead departures, good head position and more. More info…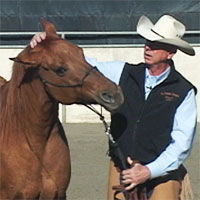 Fix Horses That Are Bad To Bridle Or Head Shy
How To Fix Horses Who Are Bad To Bridle, Clip, Medicate Or Head-Shy! If your horse won't let you touch his ears, open his mouth for the bit or clip his bridle path, this video is for you. See exactly how to fix the problem fast. Also works great on horses that are bad to paste worm, vaccinate or clip. More info…
Below Are Streaming Videos Taken From My Horse Training DVDs.
Below is content taken from my DVDs and converted to videos you can watch online.
The picture and sound quality are better than the DVDs. Also, the price is much less.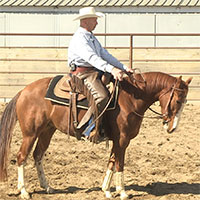 Foundation Training Package – Watch Online
How to start your colt and take him through the first 90 days of training. Great for re-training older horses too. The Foundation Training Package is detailed information to get your colt started right. Learn to start un-broke colts under saddle and take them through the first 90 days of training. More info…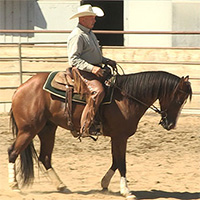 Performance Training Package – Watch Online
Train for reining, reined cow horse, ranch classes or any performance event. Do collected stops, spins, flying lead changes and more. The Performance Training Package picks up where the Foundation Training Package leaves off. Each video in the Performance Training Package shows step by step how to take your horse to the next level. More info…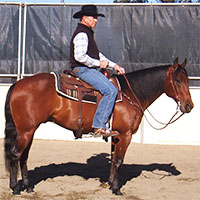 Western Riding Know How – Watch Online
This is a MUST WATCH video. It addresses just about every question about riding, training and cuing a horse, imaginable. You'll learn the "Horseman's Way" of riding and handling a horse like a pro. Riding, training, correct cues, safety, horsemanship and much, much more. It doesn't matter if you're a novice or advanced rider. Well worth your while to check it out. More info…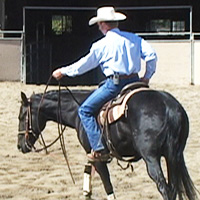 Teach Your Horse to Neck Rein – Online
The transition from snaffle bit to curb bit. How to train your horse to neck rein correctly and what bits to use in the process. Learn valuable exercises to get your horse using his hocks and lightly responding to the rein with correct form and style. If you want your horse to neck rein smooth and light, you'll love this video. More info…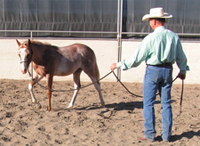 Training the Foal and Weanling – Watch Online
Everything you need to know to train your baby. Halter breaking, ground manners, handling lessons, lung-line training and much more. These training methods work great for yearlings and older horses too. If you've ever wanted to know how professionals get great results, this is the video is for you. More info…
New content and exclusive training methods.
These videos showcase new and exclusive training techniques developed by master horseman, Larry Trocha. Training methods proven to be successful.
All the online videos on this website have been formatted to play on any device.
Watch the videos on a PC, Mac, iPhone, iPad, Android phone or tablet. If watching on a smart phone, hold the phone in the "horizontal" position.
That means you can go to the barn, watch a training video on your phone and then get on your horse and instantly apply what you learned.
Learning how to train horses has never been so easy.
No sales tax… no shipping… immediate access!
There are many benefits to getting your horse training education online.
You don't have to pay sales tax like you do on a dvd. You don't have to pay for shipping either.
And the best benefit is… you get to watch the video immediately after your purchase. You get the information you want RIGHT NOW!
I highly recommend you give these new videos a try. I believe you'll get great results.
Take care and good luck with your horse training.
Larry Trocha
Larry Trocha Training Stable
HorseTrainingVideos.com
WARNING

Activities involving horses can be extremely dangerous.

HorseTrainingVideos.com and Larry Trocha assume no responsibility for your safety or your horse's safety.

You are responsible for your own actions and the results of your actions.