Horse Training Secrets For Big Stops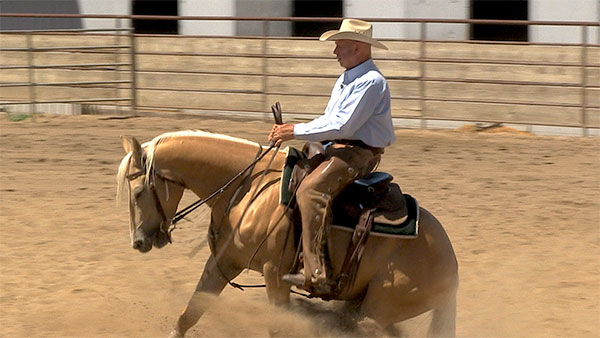 A top reining & cutting horse trainer shares what it takes to put a "BIG STOP" on your horse.
Imagine riding your horse at a pretty good gallop… and you decide to test his stop.
You say "whoa", sit down in the saddle and lightly touch the reins.
Your horse instantly sits on his hocks and smoothly drags his tail in the dirt!
Very nice!
Isn't this the kind of stop we all want on our performance horse?
That impressive big stop that's so fun to ride?
And it's not only fun, it's pretty much mandatory if you ever want to compete in the show ring.
There are so many events that require it.
You need a big stop if you ever want to compete in… reining, cutting, working cow horse, steer stopping, ranch versatility, calf roping, heeling, ranch sorting and ranch cutting.
To tell you the truth…
If you don't have a good stop on your horse, you really don't have a performance horse.
Hi – I'm Larry Trocha.
All through my horse training career, I've purchased and watched a lot of training videos.
As a matter of fact I believe I've seen just about EVERY reining and cutting video ever produced.
And you know what really surprised me? None of them… not even one… demonstrated how to put a BIG STOP on an average horse.
I mean, seeing how other trainers put a stop on their horses was one of the main reasons for buying the videos. I wanted to see if their training methods where different (or better) than mine.
Honestly, I was pretty disappointed in what I saw.
What I saw in most of those videos, were horses who ALREADY knew how to stop well… horses who were BORN NATURALS… born with the natural desire and ability to stop big.
Horses who were going to stop well no matter how BASIC the training method. Ideal horses that just about ANYBODY could have trained to stop.
Those basic training techniques might work well on horses who are "born naturals" but they seldom work well on an AVERAGE kind of horse. The kind of horse the majority of people own.
So if you've purchased training videos and couldn't achieve the kind of stop you wanted… don't feel bad. It's not your fault. Lot's of folks are in the same boat.
What I'm trying to say is…
You simply haven't been taught the appropriate training method to get the job done.
To solve that problem, here's what I've done.
I've created a video training course which shows EXACTLY how to teach your horse the BIG STOP.
I assure you, the training method you'll learn in this video training course, will work for you and your horse. If you'll follow the simple steps demonstrated in the videos, I GUARANTEE you'll get good results.
If you want your horse to have an exceptionally good stop, this is the training he must have!
Here's a small sample of what you'll learn:
How to get your horse to WANT to stop. In other words, have him thinking "stopping hard" is actually a REWARD.
How to teach your horse to stop on his hindquarters instead of his front end. There's a trick to it but it's simple and I show you a foolproof method that never fails.
How to keep your horse's front end loose and supple while he's locked-up behind with his tail dragging in the dirt.
How to teach your horse good head position as he stops.
How to improve your horse's back-up.
The correct way to use your hands, legs and body when stopping. This is absolutely critical to getting good results.
How to teach your horse to give to bit pressure, flex at the poll and come to your hands.
What "good" hands are and what they are "not". (extremely important)
How to teach your horse to be a lot lighter, supple and more responsive.
A reining horse sliding stop versus a cutting horse type of stop… you'll learn how to do both.
Speed control. How to teach your horse to lope as fast or slow as you want.
Conformation. Good conformation as well as bad conformation (extremely detailed).
You'll learn all this plus a bunch more.
Here's something you'll learn that's very, very important!
You'll see the training sessions happen in "real time".
Plus, in the training demonstrations, you'll hear me explain what I'm doing and why I'm doing it… in PLAIN ENGLISH.
No mumbo jumbo… no mysterious explanations which have a hidden meaning… none of that confusing stuff!
Which means, you won't have to "guess" how a real-life training session should go. After watching this video course, you'll "know" exactly what to do.
In the course, you'll see me school seven (7) different horses.
Some of the horses are really green and some of them are farther along.
In every case, you'll see horses who don't stop well, go from NOT STOPPING to sitting on their hocks and SLIDING to a stop.
Once you know these simple stopping secrets… it's pretty easy to take a horse that doesn't stop well… and train him up to STOPPING BIG.
A message to riders who've tried to put a big stop on their horse but didn't get the results they hoped for.

I know what you're probably thinking right now.

You're thinking… "Larry, I've already watched the training videos produced by some of the most successful trainers in the world. Trainers who've won millions of dollars".

"If their training methods couldn't get my horse to stop big, what makes you think your methods can?"

Okay… Here's what you need to understand…

When the trainers who've won millions of dollars, make a training video… the horses they're using for the demonstrations, are show horses they have in training for the biggest and toughest shows.

Horses who were hand-picked because of their extraordinary NATURAL BORN TALENT.

Those trainers sift through HUNDREDS of the best bred horses in the world to find a horse so talented, the horse just naturally performs well, no matter what.

These are the kind of horses the owner paid $100,000 to $250,000 to own.

In the video, if that horse makes a mistake… the trainer's correction is so minor, it gives the viewer an UNREALISTIC example of what to do.

I'm guessing you don't own a horse like that!

More than likely, you own a nice horse but it's not the natural-born superstar like the million-dollar trainers ride and show.

If I guessed right, I have good news for you…

Even if you own an average, every-day kind of horse, you can still teach him to stop well. Even an average horse can learn to drag his tail in the dirt, if he's sound and half-way decent-minded.

You simply need to apply a training method that works!

Here's what you'll find exciting…

Once you know how to put a big stop on an AVERAGE horse… putting a big stop on a REALLY GOOD horse is a piece of CAKE!

That's exactly the kind of knowledge you'll receive in this online training course.
This video training course is for people who want good "stopping" results right away.
Look, I know you're probably skeptical.
We all know there are no "instant fixes" or "miracles cures" for teaching a horse to stop big. Good results seldom happen over night.
However, I will promise you this:
If you'll apply what I show you in the training course, you can expect really good results in a matter of a few rides… or at the least, vast improvement.
And on some horses… you may very well see great results over night. No, I'm not kidding. (If you ever come to one of my training clinics, you may see results like this happen within a few MINUTES).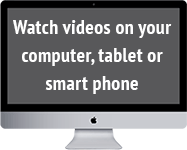 Watch the streaming videos as many times as you'd like for an entire year. You can watch on any COMPUTER, TABLET or SMART PHONE.
This online horse training course is being offered at a ridiculously low price of only $97… that's less than .27 cents a day!
100% Satisfaction Guarantee!
If you'll apply yourself, I guarantee you'll get good results using the information in this video training course. If not, simply send me an email and I'll guide you to it.
If you're still not satisfied, let me know within 30 days and I'll cancel your membership and give your money back.
Get started by becoming a member today!
Every technique needed to put a big stop on your horse is addressed in this training course. It's true and you can look at a sample of the menu here.
Get started by clicking the "Join Now" button below. Then, simply fill out the secure "Check Out" page.
A few seconds after you submit your order, you'll receive an email containing your username and password (If it's not in your "Inbox", check your spam or junk folder). Simply login and start watching. Okay, do it now and I'll see you in the "Members Area".
Horse Training Secrets For Big Stops – Online Streaming Videos
Watch as many times as you want.
1-year membership: $97


Frequently Asked Questions
Question #1
Is this training course available on DVD?
No, it isn't.
This course consists of video, audio and written instruction. Formats which won't all work on a dvd.
Even if it would, it would take 7 or 8 dvds to hold all the information in the course. Which means the retail price would need to be a lot higher.
Question #2
I don't know much about the internet. Is this online training course easy to access and use?
Yes.
When you purchase a membership to this course, you are emailed a username and password. Simply login (the link is at the top of every page) and click on the course membership you purchased. You will automatically be taken to the course.
The links to the content will be in a menu on the left side of the page. If you are using a tablet or smart phone, the menu may be at the bottom of the page instead of the left.
Question #3
​​I have a slow internet connection. Will I be able to watch the videos?
Yes, if you access the videos via your smart phone.
The videos are optimized to watch on any devise (computer, tablet or smart phone). If your internet connection is super slow, the videos won't play well on a computer.
However, they will load and play fine on your smart phone.
Question #4
​​If I have problems accessing the course or watching the videos, is help available?
Yes, absolutely!
Go the the "Contact Us" page and you will find links to information that will help… or send us an email for help… or call us on the phone.
Question #5
At the end of my 1-year membership, will you automatically charge my credit card again?
No… We never charge anyone's credit card unless they specifically authorize it.
Plus, we never "store" anyone's credit card on our website servers. This insures your information is safe and not at risk.
Question #6
If I want to renew my membership, will I receive a discount?
Yes… a 50% discount if you want to renew.
Just let me know you want to renew via email and I'll send you the discount coupon code.
About horse trainer, Larry Trocha

Training horses professionally since 1980, Larry Trocha lives in California where he trains and shows horses for the public.

Larry also offers instruction to riders who want to learn reining, cutting or reined cow horse.

Larry is a long-standing member of the NCHA (membership #518) and the AQHA (membership #1187036).

You can contact Larry via his website: HorseTrainingVideos.com

Larry Trocha Training Stable
Phone: 209-642-2804