Lope Slow With Complete Control
It doesn't matter if your horse is simply "green" or an old, confirmed run-a-way with a hard mouth and a ton of bad habits.
Doesn't matter what your level of horsemanship… novice or advanced… you'll have success (or at least vast improvement) with the training techniques you learn in this course!
Allows you to confidently ride your horse… knowing you're in complete control.
Have you ever ridden a horse that makes you nervous?
Maybe the horse you own right now?
My guess is, you're nervous because you know you can't control that horse. You can't control his speed, you can't control his direction and you can't easily stop him.
I'm also guessing, the son-of-a-gun probably got you hurt. And now, your confidence is shaken.
Answer this question…
How confident would you feel driving a car that had a broken steering wheel… brakes that didn't work… and the accelerator sticks wide open?
​Would you feel safe driving that car?
The fact is… it's no different with a horse!
A horse must have good steering… excellent brakes and a smooth working accelerator.
If he doesn't… he's dangerous to ride… a wreck waiting to happen!
Certainly, you will NEVER become confident riding an un-trained horse like that.
Right now, with this training course, you have the perfect opportunity to learn how to fix that stuff. Fix it so you can get your confidence back.
After you finish watching these videos, you'll KNOW how to correct your horse's problems.
If your horse isn't controllable or safe to ride, you really only have 3 options.
Option #1. Take the time to learn how to train or correct the horse you currently own.
Option #2. Send your horse to a professional trainer and hopefully he'll train your horse. (Yes, just because your horse is at the trainer's place doesn't mean he's actually riding him)
Option #3. Buy a NEW horse who's already well-trained… and learn how to "maintain" his good training.
Here's the bottom line…
No matter which option you choose, you STILL need to learn the horse training techniques I demonstrate in this series of videos. If you want a good, dependable horse who will STAY that way, you really have no choice.
If you don't learn it, the horse you sent to the trainer, will eventually revert back to his old problems. If you don't know how to MAINTAIN his training, he'll simply lose it.
Same thing with any new horse you buy. If you don't know how to maintain his good training, he'll quickly degenerate into a poorly-trained horse.
Horses either ADVANCE or DEGENERATE to the level of their rider. That's why it's so important for you to learn these training techniques.
Read the above two sentences again. Critical for you to understand.
You'll see multiple training techniques that work great on all kinds of different horses.
In this online course, you'll see 4 different horses being trained.
One is an average normal horse… one is a hot sensitive horse… another is a blown-up barrel horse and the fourth horse probably has a screw loose (she put her owner in the hospital multiple times).
Take advantage of this special offer while it's still available… ​including the added bonuses!
Bonus #1
​How to avoid the big mistakes that 99​​% of riders make but aren't even aware of.​
As a special bonus, I've included some unique bonus videos.
Some of my members sent in a video of themselves schooling their horse. In the videos, they attempt to get the horses to STOP, SPIN, CHANGE LEADS and LOPE SLOW.
They asked for my help so I did a voice-over of the videos… and using "stop action" and "freeze frame", I pointed out all the mistakes and what needed to be done to correct them.
I explain how to improve their stops, spins, lead changes and loping speed.
I believe you'll find the bonus videos contain some of the most valuable instruction you've ever seen. ​(A $50 value)
Bonus #2
How to train your horse with a braided hackamore (bosal) and an O-ring snaffle bit.
Have you ever wanted your horse to be so light he responded to the slightest touch of the reins?
If so, this instruction may be exactly what you're looking for.
As a bonus, you'll get full access to my online training course titled:
"Hackamore Training" with a braided bosal and snaffle bit.
If you ride with a braided bosal or a standard snaffle bit, you'll love this video.
Special emphasis is given to teaching your horse  lightness, suppleness, sliding stops, rollbacks, spins, lead departures and good head position. (A $47 value)
Bonus #3
Have Larry evaluate your horse's training problems and offer the best solution.
For a limited time… Larry is offering to evaluate your horse's training problems plus offer advice on how to correct it.
​​Upload a video of your horse's problems to youtube.com and email Larry the page address of the video. (the URL)
​He will analyze the video and contact you to offer the best solutions.
​This is a rare opportunity for you to get advice from a top professional horse trainer.
​Take advantage of it now while it's still available.
​A $100 value but it's yours FREE when you join now and become a member!
Why this training course is different… and why you should get it.
The reason why is because, in this training course, you are shown the "REALITY" of transforming your horse into a well-trained horse that you can be proud of.
You will see real-life horse training sessions and real proven solutions that will work on the vast majority of horses.
The training sessions are explained in "plain english" anyone can understand.
Will these solutions work on every single horse in the world… nope!
The reason I say no is because there are always horses who are the exception to the rule… There will always be that one-in-a-thousand horse who is the exception.
They are few and far between but they do exist.
Get started by becoming a member today!
All the training techniques you need are contained in this training course. It's true and you can look at a sample of the menu here.
Start by clicking the "Join Now" button below. Then, fill out the secure "Check Out" page.
A few minutes after you submit your order, you'll receive an email containing your username and password. Then login and start watching. Okay, do it now and I'll see you in the "Members Area".
Lope Slow with Complete Control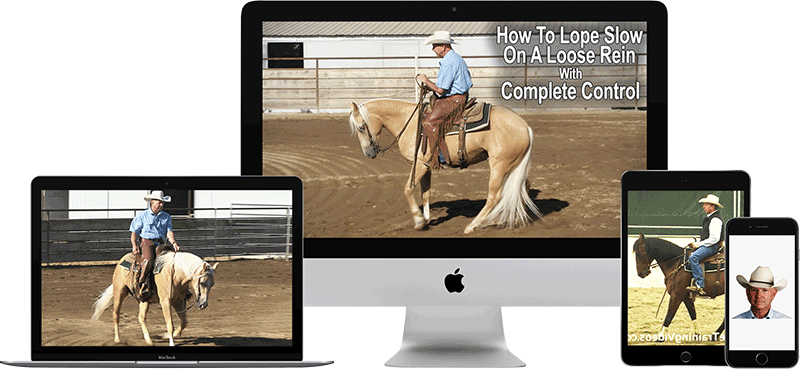 Watch the videos as many times as you'd like for an entire year (365-days). You can access them on any COMPUTER, TABLET or SMART PHONE with an internet connection.
Lope Slow with Complete Control – 1-year membership: $97



(Option to renew at a big discount)

100% Satisfaction Guarantee!
I know what it's like to ride a horse which is't well trained. It's no fun… and it can be down-right dangerous.
If you're in this type of situation with your horse, I know how you feel… desperate to find a solution that really works.
I want you to know, in this training course, I've got you covered. This course can take you and your horse to a new level… fast!
You'll find the solutions to your horse's training problems in this online training course. If not, simply send me an email or phone call and I'll personally guide you to it.
If you're still not satisfied, let me know within 30 days and I'll cancel your membership and refund your money.
Frequently Asked Questions
Question #1
Is this training course available on DVD?
No, it isn't.
I prefer having the course online because it allows me to occasionally add more content to the course.
With DVDs I wouldn't be able to do that.
Even if it would, it'd take 6 or 7 DVDs to hold all the information in the course. Which means the retail price would need to be a lot higher.
Question #2
I don't know much about the internet. Is this online training course easy to access and use?
Yes.
When you purchase a membership to this course, you are emailed a username and password. Simply login (the link is at the top of every page) and click on the course membership you purchased. You will automatically be taken to the course.
The links to the content will be in a menu on the left side of the page (desktop). If you're using a tablet or smart phone, the menu may be at the bottom of the page.
Question #3
​​I have a slow internet connection. Will I be able to watch the videos?
Yes, if you access the videos via your smart phone.
The videos are optimized to watch on any devise (computer, tablet or smart phone). If your internet connection is super slow, the videos won't play well on a computer.
However, they will load and play fine on your smart phone.
Question #4
​​If I have problems accessing the course or watching the videos, is help available?
Yes, absolutely!
Go the the "Contact Us" page and you will find links to information that will help… or send us an email for help… or call us on the phone.
Question #5
At the end of my 1-year membership, will you automatically charge my credit card again?
No… We never charge anyone's credit card unless they specifically authorize it.
Plus, we never "store" anyone's credit card on our website servers. This insures your information is safe and not at risk.
Question #6
If I want to renew my membership, will I receive a discount?
Yes… a 50% discount if you want to renew.
Just let me know you want to renew via email and I'll send you the discount coupon code.
About horse trainer, Larry Trocha

Training horses professionally since 1980, Larry Trocha lives in California where he trains and shows horses for the public.

Larry also offers instruction to riders who want to learn reining, cutting or reined cow horse.

Larry is a long-standing member of the NCHA (membership #518) and the AQHA (membership #1187036).

You can contact Larry via his website: HorseTrainingVideos.com

Larry Trocha Training Stable
Phone: 209-642-2804