Complete Horse Training Membership
Access To All The Online Training Courses In The Members Area.
Get A Huge 50% Discount
Read the details below.
If you would like to have the knowledge to train horses at any level of performance… this is the package for you.
Below are the online courses you get with the "Complete Horse Training Membership".
Most of the titles contain MANY individual videos… an extensive resource of detailed instruction! Possibly, the best you've ever seen.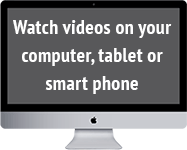 Watch all the streaming videos, audios and written information as many times as you'd like for an entire year. You can watch the videos on any COMPUTER, TABLET or SMART PHONE.
100% Satisfaction Guarantee!
I guarantee you'll have great success with the training techniques demonstrated in these videos.
They have worked great for thousands of clients and members and they'll work great for you too.
If not, simply send me an email and I'll guide you to a solution that will work for you and your horse.
If you're still not satisfied, simply let me know and I'll cancel your membership and give your money back.
Purchased individually, a membership to these online training courses would total $1,184.
During this special offer, the "Complete Horse Training Membership" is only… $587.
That's a

50% DISCOUNT of $597

!
PLUS…
You'll get access to "Teach Your Horse to Side-Pass" and "Advice on Shoeing" as a FREE BONUS! Both are outstanding 1-hour videos.
Get started by becoming a member today!
Get started by clicking the "Join Now" button below. Then, simply fill out the secure "Check Out" page.
A few seconds after you submit your order, you'll receive an email containing your username and password (If it's not in your "Inbox", check your spam or junk folder). Simply login and start watching. Okay, do it now and I'll see you in the "Members Area".
Complete Horse Training Membership – Online Streaming Videos
Watch as many times as you want.
1-year membership – $587



Frequently Asked Questions
Question #1
Is this training course available on DVD?
No, it isn't.
This course consists of video, audio and written instruction. Formats which won't all work on a dvd.
Even if it would, it would take 7 or 8 dvds to hold all the information in the course. Which means the retail price would need to be a lot higher.
Question #2
I don't know much about the internet. Is this online training course easy to access and use?
Yes.
When you purchase a membership to this course, you are emailed a username and password. Simply login (the link is at the top of every page) and click on the course membership you purchased. You will automatically be taken to the course.
The links to the content will be in a menu on the left side of the page. If you are using a tablet or smart phone, the menu may be at the bottom of the page instead of the left.
Question #3
​​I have a slow internet connection. Will I be able to watch the videos?
Yes, if you access the videos via your smart phone.
The videos are optimized to watch on any devise (computer, tablet or smart phone). If your internet connection is super slow, the videos won't play well on a computer.
However, they will load and play fine on your smart phone.
Question #4
​​If I have problems accessing the course or watching the videos, is help available?
Yes, absolutely!
Go the the "Contact Us" page and you will find links to information that will help… or send us an email for help… or call us on the phone.
Question #5
At the end of my 1-year membership, will you automatically charge my credit card again?
No… We never charge anyone's credit card unless they specifically authorize it.
Plus, we never "store" anyone's credit card on our website servers. This insures your information is safe and not at risk.
Question #6
If I want to renew my membership, will I receive a discount?
Yes… a 50% discount if you want to renew.
Just let me know you want to renew via email and I'll send you the discount coupon code.
About horse trainer, Larry Trocha

Training horses professionally since 1980, Larry Trocha lives in California where he trains and shows horses for the public.

Larry also offers instruction to riders who want to learn reining, cutting or reined cow horse.

Larry is a long-standing member of the NCHA (membership #518) and the AQHA (membership #1187036).

You can contact Larry via his website: HorseTrainingVideos.com

Larry Trocha Training Stable
Phone: 209-642-2804