Colt Starting… How To Start Colts With A Hackamore (bosal) And Snaffle Bit
Colt Starting with a Hackamore (bosal) & Snaffle Bit – 37 Online Streaming Videos
Start them the

safest

and

easiest

way possible
Would you like to learn how to start colts in a "safe as possible", "non traumatic" way?
If so, you're in luck!
Hi – I'm Larry Trocha. The trainer who created this series of videos.
In this video series, I start a 2-year old buckskin filly using a braided hackamore (bosal) and a standard snaffle bit. Plus, I do it in a way that is pretty much "stress free" for both horse and trainer.
Additionally, the entire training process is shown pretty much in "real time".
The advantage of seeing it happen in real-time is it gives you a good reference to gauge the progress and what methods it took to get them there.
Overall, the video covers a time span equivalent to about three weeks of training sessions. And each session averaging around 20 minutes in length. Some sessions longer. Some shorter.
The important thing is you see everything just how it happened. Starting at the beginning and going all the way through the 1st ride.
You will see the 7th and the 8th ride also.
Here's an outline of the progressive steps:

The sack-out and gentling process (ropes, flags, blanket and stick).

Teach the filly to respond and move her shoulders, ribcage and hips away from pressure.

Teaching the filly to work on the lunge line correctly.

Advanced lunge line techniques.

Introducing the saddle without having a wreck.

Establishing control with the hackamore. (I can't stress enough the importance of this step)

A careful introduction to the snaffle bit. (Do this wrong and you'll have mouth issues for a long time)

Pre-ride ground work with the snaffle.

Special pre-ride preparation. (How to stay out of trouble)

Making a successful first ride.

Suppling the filly laterally and establishing lightness.

Teaching the filly to give to my hands, flex at the poll and drop off the bit.

Teaching the filly to move her hindquarters away from leg pressure.

Teaching to walk, trot and lope quiet and relaxed.

Training technique for picking up the correct lead.

Teaching the preliminary stages for collection and traveling "in-frame".

Teaching the filly to back up (you'll learn 4 different methods)

Re-introducing the hackamore and continuing training.
At this point, the filly is going well and I'm riding her in the big outdoor arena.
She will walk, trot, lope… stop and back up.
She's light and will drop her nose and flex at the poll in both the snaffle bit and hackamore.
From here, it was just a matter of riding her consistently and letting her progress at her own pace.
You'll pretty much see everything exactly as it happened.
About the only thing I didn't show on camera was I spent the first week just petting and brushing the filly so she would settle in and get to know me.
The filly went on to become a really good horse.
The absolute "SAFEST" way I know to make those first several rides.
Follow this recommendation and you'll greatly reduce the chances of getting bucked off or having a wreck.
Follow it to the letter and this training technique almost guarantees your colt will have a successful start.
Honestly, I highly recommend this video series to anyone who starts colts.
I truly believe this is a great way to get the job done.
SPECIAL BONUS VIDEOS
New and special training techniques:
How to catch… halter… and train to ride… a wild, untouched horse… who is scared to death of people.
What you'll learn here is really special. One of my clients brought me an untouched, 7-year-old mare to start under saddle.
They delivered her loose in a stock trailer because she is so wild and afraid of people, there is no way to even get close to her.
Step by step, you'll see the process I used to teach her to be caught, haltered, lead and ridden. She is one of the most dangerous horses I've ever started. If I ever got hung-up in a stirrup, it would all be over.
If you personally went to a professional trainer and tried to get this kind of education on your own, it would cost you a lot of time and money (if you could even find a trainer who'd be willing to share the information).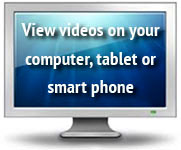 Watch the videos as many times as you'd like for an entire year. You can access them on any COMPUTER, TABLET or SMART PHONE.
This course is being offered at a ridiculously low price of only $97.
This low-priced offer will end soon so I recommend you get the course now.
100% Satisfaction Guarantee!
I guarantee you'll find the solutions your looking for in this online training course. If not, simply send me an email and I'll guide you to it.
If you're still not satisfied, let me know within 30 days and I'll cancel your membership and give your money back.
Get started by joining now!
Get started by clicking the "Add To Cart" button below. Then, simply fill out the "Check Out" page.
A few seconds after you submit your order, you'll receive an email containing your username and password. Simply login and start watching. Okay, do it now and I'll see you in the "Members Area".
Colt Starting with a Hackamore (bosal) & Snaffle Bit – 37 Online Streaming Videos.
1-year membership: $97




Also available as part of the Online Foundation Training Package.


About horse trainer, Larry Trocha

Training horses professionally since 1980, Larry Trocha lives in northern California where he trains and shows horses for the public.

Larry also offers instruction to riders who want to learn reining, cutting or reined cow horse.

Larry is a long-standing member of the NCHA (membership #518) and the AQHA (membership #1187036).

You can contact Larry via his website: HorseTrainingVideos.com

Larry Trocha Training Stable
Phone: 209-642-2804