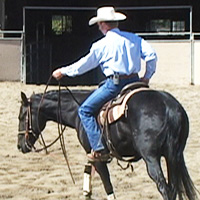 Teach Your Horse to Neck Rein
How to train your horse to neck rein, turn & spin with the slightest touch… so light it's barely visible to the eye!
If you have my Rollback & Spin video, this Neck Reining video is the next step. I highly recommend it.
Want your horse to neck rein exceptionally well?
If so, this 2-hour video series contains the instruction you're looking for.
Produced by California cutting and reining trainer, Larry Trocha, this video shows how to teach your horse to respond to the neck rein "lightly" with correct "form" and "style".
Step by step, Larry demonstrates how to take a colt that's green in the
snaffle bit and advance him until he's a responsive horse neck reining in the curb bit.
And, the video covers a LOT more than just teaching a horse to neck rein.
Here's what Larry Trocha says about this exceptional video!
In this video, I start with a 2-year-old filly that is green in the snaffle. Step by step, I take her through the exercises that are necessary to get her "trained" and prepared to be a neck reining horse.
I describe the different types of snaffle bits that I use and explain why and when you should use each one.
I teach this horse to respond to my hands, give her head and get supple. I get control of the moving parts of her body. The filly learns how to move her shoulders, ribcage and hindquarters.
You'll see exactly what to do to get great results!
I show you how to use the direct rein, the indirect rein and the squaw rein to really get the horse improving.
Maybe the most important thing you'll see in this video are the TRAINING EXERCISES I use to really get a horse using it's body correctly. (These are the same exercises I use on all my good horses… green colts as well as champion cutting and reining horses).
Use these exercises on your horse to get him… SUPPLE, CIRCLING, STOPPING, PLANTING THE INSIDE PIVOT FOOT and bringing his front end around in a SMOOTH TURN-A-ROUND.
Discover the best transition bits to use on your horse.
Next, I introduce the "transition bits". These bits are the stepping stones used to graduate the horse from the snaffle to the curb.
I show how to adjust the bit and curb chain so it fits the horse right. Then, I demonstrate various ways of holding and using the reins.
After the horse is going well in the transition bit, I graduate him to a curb bit.
Refining and polishing the neck rein.
This part of the video is where things really get good. This is where I refine and polish the horse's performance.
I've built the horse's foundation in the snaffle and transition bits. Now its time to put the frosting on the cake.
You'll see how to teach your horse to rein REALLY, REALLY LIGHT. So light you barely need to move your hand to get him turning.
Guiding and turning your horse with just your legs!
In this section of the video, I demonstrate how to use your legs and spurs properly.
This is one way to guide your horse without any visible cues. Get this technique down and you can literally TURN and SPIN your horse without anybody knowing how you're doing it! Pretty cool really.
Here's a small sample of what you'll learn:
Multiple training exercises designed to get your horse using his body correctly.
How to teach your horse to be responsive, light and supple in the snaffle and curb bit.
How to choose the bit that is right for your horse's level of training. (Very important)
How to teach your horse to give to your hands, drop off the bit and FLEX AT THE POLL.
How to establish control of your horse's head, neck, shoulders and hindquarters.
Exercises for teaching your horse to use his hocks and move his front end.
How to use the direct-rein, indirect-rein, squaw-rein & neck-rein to get great results.
How to make the transition from the snaffle to the curb bit very easy for your horse.
How to correctly use your hands, body, legs and spurs to get good results.
The best transition bits to use to graduate your horse from the snaffle to the curb bit.
How to teach your horse to turn-on-a-dime using leg pressure alone. (Simple method)
You'll learn this and more. All the information you need to have your horse neck reining like a dream is in this video. I think you'll love it.
Get started by becoming a member today!
Get started by clicking the "Join Now" button below. Then, simply fill out the secure "Check Out" page.
A few seconds after you submit your order, you'll receive an email containing your username and password (If it's not in your "Inbox", check your spam or junk folder). Simply login and start watching. Okay, do it now and I'll see you in the "Members Area".
Teach Your Horse To Neck Rein – Online Streaming Videos (2-hours)
Standard definition. Watch as many times as you want.
1-year membership: $37



Frequently Asked Questions
Question #1
Is this training course available on DVD?
Yes, it is but in my opinion the online footage looks better.
Question #2
I don't know much about the internet. Is this online training course easy to access and use?
Yes.
When you purchase a membership to this course, you are emailed a username and password. Simply login (the link is at the top of every page) and click on the course membership you purchased. You will automatically be taken to the course.
The links to the content will be in a menu on the left side of the page. If you are using a tablet or smart phone, the menu may be at the bottom of the page instead of the left.
Question #3
​​I have a slow internet connection. Will I be able to watch the videos?
Yes, if you access the videos via your smart phone.
The videos are optimized to watch on any devise (computer, tablet or smart phone). If your internet connection is super slow, the videos won't play well on a computer.
However, they will load and play fine on your smart phone.
Question #4
​​If I have problems accessing the course or watching the videos, is help available?
Yes, absolutely!
Go the the "Contact Us" page and you will find links to information that will help… or send us an email for help… or call us on the phone.
Question #5
At the end of my 1-year membership, will you automatically charge my credit card again?
No… We never charge anyone's credit card unless they specifically authorize it.
Plus, we never "store" anyone's credit card on our website servers. This insures your information is safe and not at risk.
Question #6
If I want to renew my membership, will I receive a discount?
Yes… a 50% discount if you want to renew.
Just let me know you want to renew via email and I'll send you the discount coupon code.
About horse trainer, Larry Trocha

Training horses professionally since 1980, Larry Trocha lives in California where he trains and shows horses for the public.

Larry also offers instruction to riders who want to learn reining, cutting or reined cow horse.

Larry is a long-standing member of the NCHA (membership #518) and the AQHA (membership #1187036).

You can contact Larry via his website: HorseTrainingVideos.com

Larry Trocha Training Stable
Phone: 209-642-2804