How To Train Your Horse Using A Braided Hackamore (Bosal) & An O-Ring Snaffle Bit
Get "finger-tip light" stops, spins & lead departures
Hackamore (Bosal) & Snaffle Bit Training – Online Streaming Videos
18 videos, 2-hours 30-minutes of instruction
Have you ever wanted to train a horse to be so light that he responded to the slightest movement of your hand?
A horse so responsive that a simple touch of the rein would cause the horse to slide to a stop or rollback or spin?
If so, this instruction may be exactly what you're looking for.
Hi – I'm Larry Trocha. The trainer who created this series of videos.
When done the right way, a horse that's been trained in the hackamore (bosal) will be one of the lightest, most responsive horses you'll ever ride.
That's because, when using a hackamore, you really can't force a horse to perform. He must be taught.
Harsh tactics you can get away with when using a bit, just won't work with a hackamore.
Because of this, hackamore training usually produces a horse that is more confident, supple, light and responsive.
In this series of online videos, I demonstrate techniques to produce a well trained performance horse.
Special emphasis is given to teaching the hackamore horse lightness, suppleness, sliding stops, rollbacks, spins, lead departures and good head position.
Here's a small sample of what you'll learn…

How to tell the difference between a good hackamore and a bad hackamore. (It's very important to use only a good one)

What size hackamore you need and how to adjust it correctly to get good results. (There is more than one adjustment… each one critical)

How to tie the macate (hair rope reins) to the hackamore. (There's more than one way but I'll show you the most important factors)

How to use your hands and legs to get your horse light and responding to the hackamore.

How to teach your horse to flex at the poll and drop his nose off the hackamore.

How to teach your horse to move off rein and leg pressure.

The importance of correct body position when loping circles… and how to get it.

How to teach your horse to stop with just a light touch of the rein. (I'm not exaggerating here. I'm talking about a touch, a slack and then a slide)

How to teach your horse to give his head, get supple, lighten up and really respond to the hackamore.

The #1 mistake horses make when learning to spin. (It's not what you might expect)
You'll learn all this and more.
The important thing to realize about this instruction, is that it gives you an alternative training technique.
If you've been having problems teaching your horse to be light and responsive, maybe it's time to change things up.
The hackamore just might be the ticket.
A note for serious horsemen only:
When I first came to California in the mid 1970's, the most beautiful stops I'd ever seen in my life were performed by horses that were trained in the hackamore.
If you are dead serious about getting good at this, I strongly recommend you read the book "Hackamore Reinsman" by Ed Connell.
This 94 page book was written back in the 1940's. It's strictly a manual of instruction so it's pretty tedious to read. There are no pretty photographs to look at, no humorous stories and no mention of glory in the show arena.
However, there is PROFOUND knowledge hidden in it's pages.
If you'll read it at least 10 times (I read it 30), you'll gain an understanding of hackamore training few people have.
Combine what you learn in this video series along with the Hackamore Reinsman book and you'll know how to train superior, well-reined horses.
The book is available through tack stores but I think it best to purchase it directly from Ed Connell's daughter, Leslee.
On her website are a bunch of old photos of Ed Connell mounted on hackamore horses on the ranch back in the 1930's. Very interesting stories about her dad and how he wrote the book too.
Here's the link to Leslee's website: https://hackamore-reinsman.com
Important:
Be aware, there are lots of hackamores and macates on the market that are NOT any good. Don't buy a hackamore until you watch the first several videos in this series. Otherwise you're liable to buy a hackamore that won't work.
Snaffle bit fix… how use the snaffle bit to fix problems and enhance the the results of the hackamore training.
Occasionally, it's a good idea to ride a hackamore horse in the snaffle bit… especially if the horse has some problems.
In this bonus section, I demonstrate how and when to use the snaffle bit to get good results.
You'll see an extremely effective way to use the snaffle to improve the horse's stop, spin, lead departures and more.
This section alone is a horse training clinic all by itself.
Valuable Bonus Videos… How to fix mistakes 99% of riders make but aren't even aware of.
As a special bonus, I've included in this course, some very unique and valuable training videos.
Some of my members sent in a video of themselves schooling their horse. In the videos, they attempt to get the horses to STOP, SPIN, CHANGE LEADS and LOPE SLOW.
They asked for my help so I did a voice-over of the videos… and using "stop action" and "freeze frame", I pointed out all the mistakes and what needs to be done to fix them.
I explained EXACTLY how to improve their stops, spins, lead changes and loping speed. I believe you'll find the bonus videos contain some of the most valuable instruction you've ever seen.
Below is what one of my members had to say after watching the bonus videos.
Tammi Tognetti says:

This was awesome!!! It helps so much to see another rider make the same "mistakes" that I do (most of the time without even realizing I am doing it).

I had so many "aahh haa" moments watching this. Heading out to the arena now!!!

Thank you to the riders for submitting the videos. By doing so it will help so many of us.
Special "Limited Time" Offer.
If you personally went to a professional trainer and tried to get this kind of education on your own, it would cost you a lot of time and money (if you could even find a trainer who knows this special information).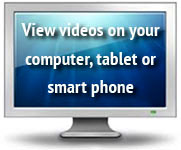 Watch the videos as many times as you'd like for an entire year. You can access them on any COMPUTER, TABLET or SMART PHONE.
For a LIMITED TIME, the course is being offered at a ridiculously low price of only $47.
This low-priced offer will end soon so I recommend you get the course now.
100% Satisfaction Guarantee!
I guarantee you'll find the solutions your looking for in this online training course. If not, simply send me an email and I'll guide you to it.
If you're still not satisfied, let me know within 30 days and I'll cancel your membership and give your money back.
Get started by placing your order now!
Get started by clicking the "Add To Cart" button below. Then, simply fill out the "Check Out" page.
A few seconds after you submit your order, you'll receive an email containing your username and password. Simply login and start watching. Okay, do it now and I'll see you in the "Members Area".
Hackamore (Bosal) & Snaffle Bit Training – Online Streaming Videos
18 videos, 2-hours 30-minutes of instruction. Watch as many times as you want.
1-year membership: $47



About horse trainer, Larry Trocha

Training horses professionally since 1980, Larry Trocha lives in northern California where he trains and shows horses for the public.

Larry also offers instruction to riders who want to learn reining, cutting or reined cow horse.

Larry is a long-standing member of the NCHA (membership #518) and the AQHA (membership #1187036).

You can contact Larry via his website: HorseTrainingVideos.com

Larry Trocha Training Stable
Phone: 209-642-2804