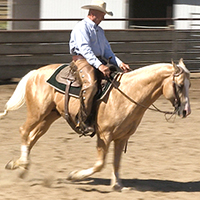 Flying Lead Change Secrets… Only $7.00
How to successfully teach flying lead changes without the fear of messing your horse up.
Online training videos that show you step-by-step how to get the job done. Strait-forward instruction without any unnecessary B.S.
Have you always wanted to do flying lead changes but don't know how?
Have you tried, only to make your horse frustrated or teed off?
Are you willing to give it one more try?
If so, this online video training course contains the instruction you're looking for.
Produced by California cutting and reining horse trainer, Larry Trocha, this course shows how to teach your horse flying lead changes without the guess-work or uncertainty of messing your horse up.
Step by step, Larry demonstrates how to take a horse that has no idea of how to change leads and turn him into a lead changing pro.
Hi – Larry Trocha here.
At my training stable, many horse owners come to me to learn about flying lead changes… how to do them and how to teach it to their horse.
The reason why is because just about every horse show event or horse activity requires your horse to do a flying lead change… it's pretty much a mandatory maneuver!
Yet, few people know how to do it.
That's the reason why I created this training course…
"Flying Lead Change Secrets"
Here's what you'll learn:
How to use your hands correctly to achieve good results.
How to teach your horse to be responsive, light and supple.
How to establish control of your horse's head, neck, shoulders and hindquarters.
How to use your legs and spurs correctly.
How to rollback into the correct lead… even on a green horse.
How to achieve flying lead changes on an untrained horse.
The mechanics of the flying lead change and what makes it happen.
How to get your horse to WANT to change leads.
What to do if the horse makes mistakes and how to correct those mistakes.
How to prevent a reining horse from anticipating the change, ruining your pattern.
What NOT TO DO when teaching flying lead changes.
You'll learn all this and more. All the information you need to have your horse changing leads like a dream is in this video. I think you'll love it.
This is a limited time offer. Take advantage of it while it's still available. Get started by becoming a member today!
Get started by clicking the "Join Now" button below. Then, simply fill out the secure "Check Out" page.
A few seconds after you submit your order, you'll receive two emails. One contains your username and password (If it's not in your "Inbox", check your spam or junk folder). The other contains your receipt. Simply login and start watching. Okay, do it now and I'll see you in the "Members Area".
Flying Lead Change Secrets – Online Streaming Videos
Watch as many times as you want.
1-year membership: $7.00



Frequently Asked Questions
Question #1
Is this training course available on DVD?
No, online only.
Question #2
I don't know much about the internet. Is this online training course easy to access and use?
Yes.
When you purchase a membership to this course, you are emailed a username and password. Simply login (the link is at the top of every page) and in the "Members Area" click on the course membership you purchased. You will automatically be taken to that course.
The links to the content will be in a menu on the left side of the page. If you are using a tablet or smart phone, the menu may be at the bottom of the page instead of the left.
Question #3
​​I have a very slow internet connection. Will I be able to watch the videos?
Yes, if you access the videos via your smart phone.
The videos are optimized to watch on any devise (computer, tablet or smart phone). If your internet connection is super slow, the videos won't play well on a computer.
However, they will load and play fine on your smart phone.
Question #4
​​If I have problems accessing the course or watching the videos, is help available?
Yes, absolutely!
Go the the "Contact Us" page and you will find links to information that will help… or send us an email for help… or call us on the phone.
Question #5
At the end of my 1-year membership, will you automatically charge my credit card again?
No… We never charge anyone's credit card unless they specifically authorize it.
Plus, we never "store" anyone's credit card on our website servers. This insures your information is safe and not at risk.
Question #6
After a year, if I want to renew my membership, will I receive a discount?
Yes… a 50% discount if you want to renew.
Just let me know you want to renew via email and I'll send you the discount coupon code.
Question #7
What is the difference between this lead change course and the lead change videos found in your "Performance Training Package"?
"Flying Lead Change Secrets" is a brand new training course which teaches an excellent way to get good lead changes. The flying lead change course found in the "Performance Training Package" teaches SEVERAL different ways to get good lead changes.
About horse trainer, Larry Trocha

Training horses professionally since 1980, Larry Trocha lives in California where he trains and shows horses for the public.

Larry also offers instruction to riders who want to learn reining, cutting or reined cow horse.

Larry is a long-standing member of the NCHA (membership #518) and the AQHA (membership #1187036).

You can contact Larry via his website: HorseTrainingVideos.com

Larry Trocha Training Stable
Phone: 209-642-2804