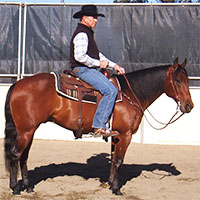 Western Riding Know How – Watch Online
Riding, Training, Correct Cues, Safety, Horsemanship and Much, Much More.
Greatly improve your riding ability and your horse's training. This is a MUST WATCH video. It doesn't matter if you're a novice or advanced rider, this information will help you.
Do you want to be an exceptionally GOOD HORSEMAN and RIDER?
Want to know the CORRECT CUES to get your horse working well?
If so, this video by California trainer, Larry Trocha is for you.
Here's what you'll learn…
How to use your hands, legs, body, spurs and reins to achieve good performance. Plus all the mistakes to avoid.
How to cue your horse to pick up the correct lead.
How to make your horse easy to bridle.
Correct cues and training to get your horse to stop and back-up well.
How to make your horse easy to catch.
Your horse's EMERGENCY BRAKE and how to apply it.
Cues for getting a good head-set.
How to use leg & spur cues to control your horse's body.
How to use your hands to get your horse light in the mouth.
Cues for correct circles and turns on the hindquarters.
How to get your horse to LOPE SLOW on a loose rein.
How to use the o-ring snaffle bit and long-shank curb bit.
The proper cues for the walk, trot, lope and more.
How to get your horse collected up.
How to side-pass your horse.
How to neck rein and direct rein your horse for good turns & better control.
You'll learn all this plus much, much more!
The information is divided up into 14 CHAPTERS.
Here are the chapter titles:
Catching, Bridling and Saddling
Hands, Legs & Body Posture
Responsiveness & Control
Turns, Circles & Using the Reins
Timing the Reins & Cues
Stopping, Stopping & Stopping
Your Horse's Emergency Brake
Hand & Body Position for the "Double"
How to Use Leg Aids & Spurs
The Basics of Collection
Riding at the Trot, Benefits & Training
Leads & Lead Departures
Speed Control at the Lope
Riding with the Snaffle & Curb Bit
Get started by becoming a member today!
Get started by clicking the "Join Now" button below. Then, simply fill out the secure "Check Out" page.
A few seconds after you submit your order, you'll receive an email containing your username and password (If it's not in your "Inbox", check your spam or junk folder). Simply login and start watching. Okay, do it now and I'll see you in the "Members Area".
Western Riding Know How – Online Streaming Videos (2-hours)
Standard definition. Watch as many times as you want.
1-year membership: $47



Frequently Asked Questions
Question #1
Is this training course available on DVD?
Yes, it is but in my opinion the online footage looks better.
Question #2
I don't know much about the internet. Is this online training course easy to access and use?
Yes.
When you purchase a membership to this course, you are emailed a username and password. Simply login (the link is at the top of every page) and click on the course membership you purchased. You will automatically be taken to the course.
The links to the content will be in a menu on the left side of the page. If you are using a tablet or smart phone, the menu may be at the bottom of the page instead of the left.
Question #3
​​I have a slow internet connection. Will I be able to watch the videos?
Yes, if you access the videos via your smart phone.
The videos are optimized to watch on any devise (computer, tablet or smart phone). If your internet connection is super slow, the videos won't play well on a computer.
However, they will load and play fine on your smart phone.
Question #4
​​If I have problems accessing the course or watching the videos, is help available?
Yes, absolutely!
Go the the "Contact Us" page and you will find links to information that will help… or send us an email for help… or call us on the phone.
Question #5
At the end of my 1-year membership, will you automatically charge my credit card again?
No… We never charge anyone's credit card unless they specifically authorize it.
Plus, we never "store" anyone's credit card on our website servers. This insures your information is safe and not at risk.
Question #6
If I want to renew my membership, will I receive a discount?
Yes… a 50% discount if you want to renew.
Just let me know you want to renew via email and I'll send you the discount coupon code.
About horse trainer, Larry Trocha

Training horses professionally since 1980, Larry Trocha lives in California where he trains and shows horses for the public.

Larry also offers instruction to riders who want to learn reining, cutting or reined cow horse.

Larry is a long-standing member of the NCHA (membership #518) and the AQHA (membership #1187036).

You can contact Larry via his website: HorseTrainingVideos.com

Larry Trocha Training Stable
Phone: 209-642-2804