How To Ride, Train & Show Your Cutting Horse. Solve Problems, Build Confidence!
Sample video.
Cutting Horse Know How – 78 online videos of super detailed instruction.
Sample video.
3-year-old Futurity runs.
The most complete and in-depth instruction (for both horse & rider) available anywhere.
Would you like to know how to ride and train your cutting horse so he works well?
Would you like to improve your showmanship so you are successful at the cutting horse shows?
Would you like to see training secrets the pros use… but never reveal on video, at a clinic or a private lesson?
If you're sick and tired of your horse not working up to his potential… If you're sick and tired of your horse looking like a reject… If your sick and tired of not winning at the shows… You've come to the right place.
On this page is the most complete and detailed cutting horse instruction ever created. I personally 100% guarantee you will love this training course!
Hi – I'm Larry Trocha. The trainer who created this series of videos.
Over the years, I've developed a system of training methods that are effective… and work so well… they can be used to train or correct just about any cutting or cow horse.
Using these training techniques, my non-pros and I have won multiple aged events and year-end championship titles. I believe these training methods will work well for you too.
We shot video footage of me applying my unique training methods to horses in my barn.
We also shot SOLUTIONS TO TRAINING PROBLEMS.The kind of problems that plague many cutting horse riders.
On top of this, I also share with you training secrets no other trainer has ever shown on camera… or training clinic… or even a private lesson.
I then assembled all the information into an online horse training course which includes VIDEO, AUDIO and some WRITTEN instruction.
The title of this training course is, "CUTTING HORSE KNOW HOW".
The course contains "78" high-quality instructional videos that are viewed online via a computer, tablet or smart phone.
Here's a sample of what you'll learn:
How to fix just about every conceivable mistake a cutting horse & rider can make.
How to consistently make good clean cuts in the middle of the pen.
How to control and manipulate the herd so you can cut the cow you want.
How to fix a horse that "rounds the turns" and "leaks" up the pen.
How to improve horses that don't hold their stop.
Tacking the horse up and properly adjusting the equipment.
What cues to use to effectively "operate" your cutting horse.
How to fix horses that constantly "miss" a cow.
Correct posture in the saddle… plus leg and seat control.
How to dramatically improve your balance when riding a cutting horse.
How to read and identify cattle.
Correct saddle design and fit for both horse and rider.
How to fix a horse that "fades off" the cow too much.
Tips for gaining confidence and overcoming "show nerves".
How to improve your horse's "eye appeal" when working a cow (it'll help your score).
How to quickly rid yourself of bad riding habits and replace them with good ones. (this section alone is worth the price of the entire course).
This is the ONLY training course that teaches how to fix a horse that runs off and leaves the cow!
There are plenty of cutting horses that will run off and leave the cow. Some of these horses, you can't even get them to take the cow or even look at the cow.
Most people (including most professional trainers) have no idea how to fix this.
I believe I've watched every cutting and cow horse video ever made. And to my knowledge, this is the only training video where you will learn how to fix just about any problem a cutting horse can throw at you.
Major updates have been added to this training course.
I've just completed a major update to my training course, "Cutting Horse Know How".
I think you will love it and learn a lot.
You may be wondering why I did a major update like this?
I did it because show and training styles are ever evolving. And if you want to win, you had better evolve with them.
So In this update, I show you the latest and most effective training techniques.
Here's a small sample of what you'll learn:

1. The #1 physical thing your horse MUST do… or he'll never make it as a cutting horse.

2. How to teach your horse to be "finger-tip" light and supple.

3. How to get your horse to "stop hard" with the cow.

4. How to put the winning "form and style" on your horse.

5. How to fix a horse who won't stay "hooked up" on the cow.

6. How to teach your horse to slow down, stop and turn… using only your "feet".

7. How to fix a horse that has a serious "run off" problem. (This method has never failed me)

8. Learn show techniques and clock management for a higher score.
There's a bunch more… too much to list here… so you'll have to see it for yourself. I promise you won't be disappointed.
Let me just say, you'll see effective cutting horse training for green 2-year-olds… 3-year-old futurity horses… 4-year-old derby horses… all the way through to the finished cutting horse.
You're also going to see training methods other cutting horse trainers won't show you (and probably never will)
Once you see the menu of the videos, you'll know exactly what to expect. No other cutting horse training course can compare.
Would you like to see the course menu?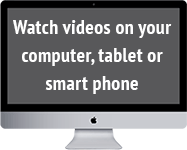 Watch the streaming videos as many times as you'd like for an entire year. You can watch on any COMPUTER, TABLET or SMART PHONE.
100% Satisfaction Guarantee!
I guarantee you'll find the solutions your looking for in this online training course. If not, simply send me an email and I'll guide you to it.
If you're still not satisfied, let me know within 30 days and I'll cancel your membership and give your money back.
Get started by becoming a member today!
Get started by clicking the "Add To Cart" button below. Then, simply fill out the secure "Check Out" page.
A few minutes after you place your order, you'll receive an email containing your username and password. Simply login and start watching. Okay, do it now and I'll see you in the "Members Area".
Cutting Horse Know How – Online Streaming Videos
Watch as many times as you want.
1-year membership: $147



Frequently Asked Questions
Question #1
Is this training course available on DVD?
No, it isn't.
This course consists of video, audio and written instruction. Formats which won't all work on a dvd.
Even if it would, it would take 7 or 8 dvds to hold all the information in the course. Which means the retail price would need to be a lot higher.
Question #2
I don't know much about the internet. Is this online training course easy to access and use?
Yes.
When you purchase a membership to this course, you are emailed a username and password. Simply login (the link is at the top of every page) and click on the course membership you purchased. You will automatically be taken to the course.
The links to the content will be in a menu on the left side of the page. If you are using a tablet or smart phone, the menu may be at the bottom of the page instead of the left.
Question #3
​​I have a slow internet connection. Will I be able to watch the videos?
Yes, if you access the videos via your smart phone.
The videos are optimized to watch on any devise (computer, tablet or smart phone). If your internet connection is super slow, the videos won't play well on a computer.
However, they will load and play fine on your smart phone.
Question #4
​​If I have problems accessing the course or watching the videos, is help available?
Yes, absolutely!
Go the the "Contact Us" page and you will find links to information that will help… or send us an email for help… or call us on the phone.
Question #5
At the end of my 1-year membership, will you automatically charge my credit card again?
No… We never charge anyone's credit card unless they specifically authorize it.
Plus, we never "store" anyone's credit card on our website servers. This insures your information is safe and not at risk.
Question #6
If I want to renew my membership, will I receive a discount?
Yes… a 50% discount if you want to renew.
Just let me know you want to renew via email and I'll send you the discount coupon code.
About horse trainer, Larry Trocha

Training horses professionally since 1980, Larry Trocha lives in California where he trains and shows horses for the public.

Larry also offers instruction to riders who want to learn reining, cutting or reined cow horse.

Larry is a long-standing member of the NCHA (membership #518) and the AQHA (membership #1187036).

You can contact Larry via his website: HorseTrainingVideos.com

Larry Trocha Training Stable
Phone: 209-642-2804