Introduction To Cow Work… How To Start Any Horse On Cattle.
How to give your horse the right kind of start on cattle. Plus… How to get good results using the mechanical cow.
Do you want your horse to be a cutting horse, reined cow horse, ranch sorting horse or a team penning horse?
If so, you need to get the horse started on cattle.
Hi – I'm Larry Trocha. The trainer who created this series of videos.
If you want your horse to be any good… it's critical to get him started on cattle the right way.
It's so easy to mess the horse up, cause bad habits and create unwanted behavior.
Or worse… get the horse scared and dreading to work cattle.
A rider needs to be very, very careful to lay this foundation right… as it can influence the way a horse works a cow the rest of his life.
The methods demonstrated in this course are the best way I know to get a horse working a cow while maintaining his interest and building his confidence.
It doesn't matter if your horse is a green 2-year old or a dead-broke 20-year old.
The introduction to working cattle is the same… build the horse's desire… show him how to work correctly… make him believe he can do it.
Some horses are initially afraid of cattle so their owner thinks they won't make a good cow horse.
That's a mistake!
Some of the best cutting horses that ever lived, started out being afraid of cattle.
However, if the horse isn't started right, you risk making the fear worse and possibly ruining the horse.
Follow the instructions outlined in this course and you'll see how to develop desire, expression and confidence. Even with a horse that's afraid of cattle.
Some horses are really aggressive towards a cow so their owner thinks the horse will be a great cow horse.
That too is a mistake!
Fail to channel the aggressiveness the right way… or let the aggressiveness get out of hand… and you can end up with a horse who's just as bad as a horse who's too afraid.
In this training course, you'll see how to start the horse on cattle in a way that practically guarantees success.
Added Bonus:
Introduction to the mechanical cow.
It's been my experience that many, many people have the wrong idea when it comes to starting their horse on cattle. They also misunderstand how to work their horse on the mechanical cow (flag).
Because of that, I wanted to make this training course as "crystal clear" and "foolproof" as I possibly could.
As a result, I have included instruction (using a mechanical cow) that will leave no doubt in your mind how to get the job done right.
An added benefit is you get to see how to use the mechanical cow or flag in a way that will really help your horse get started working cattle.
Special "Limited Time" Offer.
If you personally went to a professional trainer and tried to get this kind of education on your own, it would cost you hundreds of dollars in lesson and cattle fees (if you could even find a trainer who'd be willing to share the information).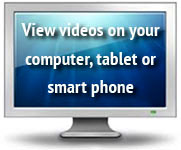 Watch the videos as many times as you'd like for an entire year. You can access them on any COMPUTER, TABLET or SMART PHONE.
For a LIMITED TIME, the course is being offered at a ridiculously low price of only $47.
This special offer will end soon so I recommend you get the course now.
100% Satisfaction Guarantee!
I guarantee you'll find the solutions your looking for in this online training course. If not, simply send me an email and I'll guide you to it.
If you're still not satisfied, let me know within 30 days and I'll cancel your membership and give your money back.
Get started by placing your order now!
Get started by clicking the "Add To Cart" button below. Then, simply fill out the "Check Out" page.
A few seconds after you submit your order, you'll receive an email containing your username and password. Simply login and start watching. Okay, do it now and I'll see you in the "Members Area".
Introduction To Cow Work – Online Streaming Videos
11 videos, 1-hour 40-minutes of instruction
1-year membership: $47



About horse trainer, Larry Trocha

Training horses professionally since 1980, Larry Trocha lives in California where he trains and shows horses for the public.

Larry also offers instruction to riders who want to learn reining, cutting or reined cow horse.

Larry is a long-standing member of the NCHA (membership #518) and the AQHA (membership #1187036).

You can contact Larry via his website: HorseTrainingVideos.com

Larry Trocha Training Stable
Phone: 209-642-2804