How to Fix Horses that Buck, Rear, Bite, Kick or Spook… and a Whole Lot More!
Learn how to change your horse's behavior from BAD to GOOD… even if you don't have much horse training experience!
Is your horse safe to handle and ride? Does he have any bad or dangerous behavior problems?
Problems that show up when you're either in the saddle or on the ground?
Do you find yourself feeling anxious or fearful whenever you ride? Look, we've all ridden certain horses which make us feel like we could get hurt.
It's not a good feeling knowing the horse might buck, rear, spook or run away with us sometime during our ride.
I realize you've probably looked at training videos or maybe even took some private lessons from a trainer. The sad truth is those other "so called" solutions seldom explain things clearly enough (or accurately) to get the result you're looking for.
If you're sick and tired of it… you've come to the right place.
Hi – I'm Larry Trocha.
During my career, I've had the pleasure of training winning horses in reining, cutting, reined cow horse, ranch horse and barrel racing competition.
More than a few of those horses came to me with really bad behavior problems. Some of them down-right dangerous.
Out of necessity, I developed training methods which are so effective… they can be used to correct just about any bad behavior issues… on just about any horse.
We shot video footage of me applying the training methods to horses with actual behavior problems. The kind of behavior problems that plague many horse owners.
I then assembled all the information into an online horse training course which includes VIDEO, AUDIO and WRITTEN instruction.
The course is titled:
Groom, Saddle, Ride & Fix Bad Behavior

…with an emphases on fixing bad behavior.
The training methods I reveal in this course are EXCLUSIVE. They are very UNIQUE and SPECIFIC for fixing bad or dangerous behavior in horses.
You won't see this type of training at any clinic. Not on any trainer's DVDs or not at any private lesson either.
They are my own special methods which most riders can apply… but few have ever seen.
Groom, Saddle, Ride & Fix Bad Behavior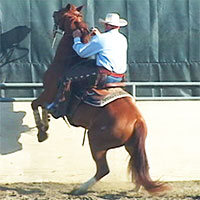 As the title implies, this course covers a lot of different behavior and training categories.
Each category is extremely important. I've listed them below.
Category #1

: Preventing bad behavior before it ever starts.

In this horse training course, you'll learn how to prevent your horse from developing bad or dangerous habits before they ever start. Few horse owners are aware of the subtle, little things that overnight can escalate into big problems.

I don't know how many times I've heard a rider say, "My horse just all of a sudden developed this problem". No horse ever just "all of a sudden" develops bad behavior. It almost always comes on slowly, little by little.

Most owners miss the warning signs until it's too late. This course shows you what to look for and how to prevent the bad behavior before it starts.

Category #2

: The most important relationship between you and your horse.

This includes what your horse thinks about you and why.

This subject is a touchy one because many people believe things about horses and horse nature which simply aren't true.

Unfortunately, the horse industry is full of "bad advice", "politically correct" B.S. and "old wives tales" which are very misleading.

Category #3

: Ground work training… except this isn't the typical kind of ground work you've ever seen before.

Yes, I know what you're thinking… "Larry, I've seen plenty of ground work techniques before and tried them on my horse. So this ground work stuff is nothing new".

My response to that is… You haven't seen MY KIND of ground work. It's nothing like you've seen before. And it's way more effective for correcting problem behavior than anything else.

Category #4

: Dangerous behavior… bucking, rearing, biting, kicking, excessively dangerous spooking.

This is the category of behavior problems which are the most urgent to fix. Because if you don't, you'll soon be on your way to the hospital emergency room.

In this training course, I'll show you ways to overcome some of the worst (and most dangerous) behavior problems a horse can have.

I demonstrate how to address the problem STRAIGHT-ON… IN AS SAFE A WAY AS POSSIBLE… in a way the horse truly understands… and changes his bad behavior to good behavior because of it.

In short, I show the MOST EFFECTIVE training you've ever seen for correcting bad behavior problems. I absolutely guarantee it.

Category #5

: Behavior problems that plague almost all horse owners at one time or another.

This is the category of behavior problems which aren't overly dangerous but are definitely a pain in the neck.

If you own horses for any length of time… you're eventually going to need this.

I'll show you ways to overcome some of the most aggravating (and frustrating) behavior problems a horse can have.
What all riders want… A 99% Spooking Cure!
The most common behavior that plagues riders the most is spooking. And this training course offers solutions. Solutions 99% effective on 99% of the horses who have a spooking problem.

And no, it has nothing to do with desensitizing a horse… or waving a plastic bag on a stick… or shaking a sack full of cans… or throwing a tarp on him.

You'll be surprised by how simple and straight-forward these solutions are. Plus, they have been proven to work time and time again on all kinds of horses.
Get started by becoming a member today!
Every bad behavior problem is addressed in this training course. It's true and you can look at a sample of the menu here.
Start by clicking the "Join Now" button below. Then, fill out the secure "Check Out" page.
A few minutes after you submit your order, you'll receive an email containing your username and password. Then login and start watching. Okay, do it now and I'll see you in the "Members Area".
Groom, Saddle, Ride & Fix Bad Behavior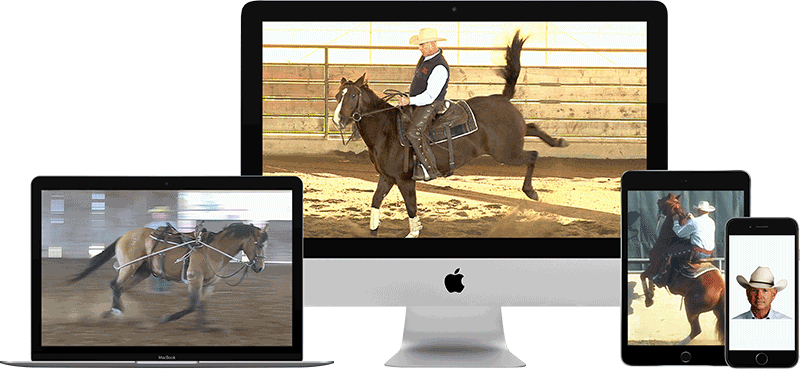 Watch the videos as many times as you'd like for an entire year (365-days). You can access them on any COMPUTER, TABLET or SMART PHONE with an internet connection.
Groom, Saddle, Ride & Fix Bad Behavior – Online Videos
Watch as many times as you want
1-year membership – $177



100% Satisfaction Guarantee!
I guarantee you'll find a solution to your horse's bad behavior problems in this online training course. If not, simply send me an email and I'll guide you to it.
If you're still not satisfied, let me know within 30 days and I'll cancel your membership and refund your money.
Frequently Asked Questions
Question #1
Is this training course available on DVD?
A: No, it isn't.
This course consists of video, audio and written instruction. Formats which won't all work on a dvd.
Even if it would, it would take 7 or 8 dvds to hold all the information in the course. Which means the retail price would need to be a lot higher.
Question #2
I don't know much about the internet. Is this online training course easy to access and use?
A: Yes.
When you purchase a membership to this course, you are emailed a username and password. Simply login (the link is at the top of every page) and click on the course membership you purchased. You will automatically be taken to the course.
The links to the content will be in a menu on the left side of the page. If you are using a tablet or smart phone, the menu may be at the bottom of the page instead of the left.
Question #3
I have a slow internet connection. Will I be able to watch the videos?
A: Yes, if you access the videos via your smart phone.
The videos are optimized to watch on any devise (computer, tablet or smart phone). If your internet connection is super slow, the videos won't play well on a computer.
However, they will load and play fine on your smart phone.
Question #4
If I have problems accessing the course or watching the videos, is help available?
A: Yes, absolutely!
Go the the "Contact Us" page and you will find links to information that will help… or send us an email for help… or call us on the phone.
Question #5
At the end of my 1-year membership, will you automatically charge my credit card again?
A: No… We never charge anyone's credit card unless they specifically authorize it.
Plus, we never "store" anyone's credit card on our website servers. This insures your information is safe and not at risk.
Question #6
If I want to renew my membership, will I receive a discount?
A: Yes… a 50% discount if you want to renew.
Just let me know you want to renew via email and I'll send you the discount coupon code.
About horse trainer, Larry Trocha

Training horses professionally since 1980, Larry Trocha lives in California where he trains and shows horses for the public.

Larry also offers instruction to riders who want to learn reining, cutting or reined cow horse.

Larry is a long-standing member of the NCHA (membership #518) and the AQHA (membership #1187036).

You can contact Larry via his website: HorseTrainingVideos.com

Larry Trocha Training Stable
Phone: 209-642-2804