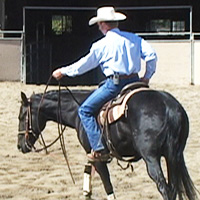 You are logged into the "Train Your Horse To Neck Rein" home page.
How to train your horse to neck rein, turn & spin with the slightest touch… so light it's barely visible!
Note: If you have my Rollback & Spin video, this Neck Rein video is the next step. I highly recommend it.
Links to the videos are on the left side of this page.
If you are on a mobile device, the menu may be at the bottom of the page.
IMPORTANT: Having trouble finding or watching the videos?
Find solutions here: Video Playback Help.