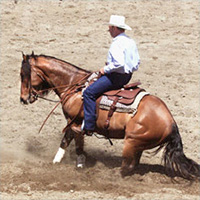 Teach Your Horse to Stop Light and Collected, volumes 1 & 2 – Watch Online
This video course is devoted entirely to teaching your horse to stop well. (Collect, lope and back-up well too).
Follow these proven steps to train your horse to stop on his hindquarters, stop hard or do a sliding stop… plus be light & collected while doing it.
The information in this video is extremely detailed. More detailed than you have ever seen before. All the information you need to get good hindquarter stops is in this online video course. You'll see EXACTLY what to do and EXACTLY how to do it.
Every kind of stop is covered.
From strong, hocks buried in the dirt stops — to soft, collected stops that are smooth and balanced.
The training methods are demonstrated on horses that actually need the training. You'll see horses making all kinds of mistakes and what to do to correct those mistakes.
Here's a small sample of what you'll learn…
How to teach your horse to consistently perform good hindquarter stops.
How to easily teach your horse to lope slow on a loose rein. (Sure-fire results)
How to put a light, quick back-up on your horse. (With a low head-set too)
How to teach your horse to slide to a stop with good head position, form and style.
How to teach your horse the fundamentals of flexion, balance and collection.
How to teach your horse to respond to a feather-light touch of the reins.
How to teach your horse to stop well from leg or spur pressure.
How to fix horses that are hard, gap and open their mouth on the bit.
How to use a snaffle bit or a curb bit to teach your horse to collect-up and stop.
How to teach your horse to flex at the poll and lightly give to your hands.
A "special" technique that will have your horse stopping-on-a-dime within a few rides.
How to use your hands, legs and body to improve your horse's stops… immediately.
What to look for in good saddles, tack and equipment.
Analysis of both good and bad conformation (How it affects performance).
What to do if the training goes wrong. (Plan B)
Running time of this training course: Approximately 5 hours.
Get this online video at a DISCOUNT by ordering the online Performance Horse Training Package