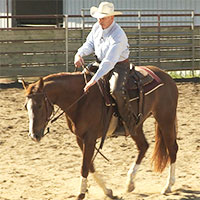 Teach Your Horse to be Light and Supple – Watch Online!
The absolute essential key for good performance
One of the secrets to having a well trained, responsive horse, is to make sure your horse is light, supple and giving to your hands and legs. Let me explain…
Suppleness is when you ask a horse to give his head to one side or the other and he willingly gives to your hand by following the bit. There is no resistance.
It also means that you can bend and position any part of the horse's body to perform any desired maneuver. It's sometimes called form to function.
In fact, lightness and suppleness are the key ingredients to top performance. Without them your horse's performance will never be better than mediocre.
Suppleness is what allows us to position a horse's body. And we need to position a horse's body to teach him to perform with correct "form and style."
Without proper suppleness and form, there is no way a horse can correctly perform any of the maneuvers expected of a western-style horse.
If you want your horse to perform good stops, turns, lead changes etc. then having him supple is a must.
A horse must also be light. He needs to willingly let us position his body quickly and without a struggle. Also, a horse will never perform as freely or as athletically as he is capable until he is light.
Because all horses are different and training situations change, this video shows a variety of ways to get your horse supple and light. The information in this video covers green colts as well as older, more advanced horses.
I highly recommend it.
Video run time is approximately 1 hour – Standard definition.
Get this online video at a DISCOUNT by ordering the online Foundation Training Package or the online Performance Training Package.