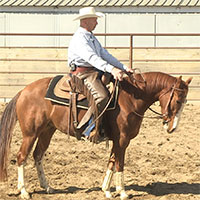 Foundation Training For The Stop And Back-Up
Start your horse's performance training right by laying a good foundation for things to come. Establish control, lightness and willingness to perform in the first 90 days of training
This video picks up where the colt starting videos leave off. In this video, I cover the first 60 to 90 days of training, starting with the colt's third ride. This "foundation training" is what all future training is built on.
If the foundation isn't right, the rest of the training won't go right either. This "foundation training" is also important for re-training older horses that have never been taught to perform correctly.
As the title implies, this video will show you how to put that important foundation on your horse. You will learn how to teach a completely un-broke colt to stop lightly, flex at the poll and back up. You will also see how to establish control from the first time the colt is ridden.
This video not only shows the correct training techniques, it also shows how to deal with all the possible problems.
The format I use in this video does a good job of showing exactly how the training should go.
First, I start the video by explaining how a well-trained horse should perform. I then ride an experienced horse to show the viewer what it's supposed to look like.
Next, I show how the training is actually done by using a variety of colts in progressive stages of training.
I start the training demonstrations with a green-broke two-year-old that's only been ridden a couple times. Then, I ride a colt that's farther along, approximately 30-days of training.
And finally, I finish up on a colt that's been ridden for several months and is more experienced.
By watching this sequence, the viewer gets a clear understanding of how to take a colt that knows absolutely nothing and progress him to the stage where he is doing things well.
Running time is approximately 1 hour.
Get this online video at a DISCOUNT by ordering the Foundation Training Package