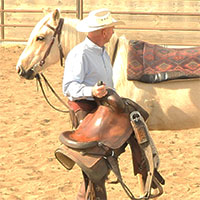 Colt Starting Magic – Watch Online!
How To Start Colts With or "WITHOUT" A Round Pen
Larry Trocha has produced a video series that details an effective way of starting unbroke horses. Larry's method allows the colt to learn what is expected of him one step at a time. Step by step your colt will develop good manners, respect for humans and a willingness to please. Most of this training is done on the lunge-line and then in the big arena.
Here's a sample of what you'll learn.
The ABC's of starting a colt with or without the need of a 50' breaking pen. (No need for a snubbing horse either).
How to teach the colt to respond to the reins "before" you get on his back. (Makes the first ride much safer).
How to establish respect, the key to developing a good working relationship with your colt.
How to greatly reduce the risk of your colt bucking you off. (Works great on 9 out of 10 horses).
How to prevent your colt from running away with you, without hurting his mouth.
Safety tips and little known tricks that will keep you out of trouble and out of the hospital.
The pros and cons of hobble training and how to do it as safely as possible. (Hobble training is optional and is not absolutely necessary for the success of this colt starting method).
How to teach your colt to willingly lower his head for bridling and stand perfectly still to be saddled.
Colt starting philosophy. Larry Trocha discusses the what, how and why of starting colts with this method.
If you're looking for an alternative way of starting colts, you'll love these videos. The this series of videos is approximately three hours long You'll see top cutting and reining trainer, Larry Trocha start two colts.
Larry begins the training on the ground, then goes step by step all the way through the first ride. As he works with the colts, Larry explains everything he's doing and why he's doing it. By the end of the videos you'll have a crystal clear understanding of how this method works.
What's great about these videos is you get to see the colts started in "real time". Very little editing was done. You see everything as it actually happened. You'll love it.
Video run time is approximately 3 hours – Standard definition.
Get this online video at a DISCOUNT by ordering the online Foundation Training Package