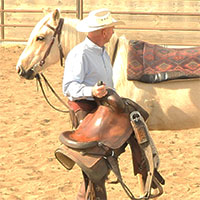 You are logged into the "Colt Starting Magic" home page.
How to start colts with or without a small breaking pen. Watch as Larry Trocha starts two colts out in the big arena using only a lunge line and hobbles. Very detailed instruction.
Links to the videos are on the left side of this page.
If you are on a mobile device, the menu may be at the bottom of the page.
IMPORTANT: Having trouble finding or watching the videos?
Find solutions here: Video Playback Help.